Time: 0:00 , July 29 - 24:00 , July 31(GMT+8)
Claim Rewards: 0:00 -24:00 , August 1(GMT+8)
Point Rankings & Points winning time: 0:00 July 29 - 24:00 July 31(GMT+8)
Requirements: 1) Server open time: longer than 4 days. 2) Guardian Lords Level: no lower than Lv.30. Server event.
Jade Bunny's Tip:
1. During the Claim Reward stage (0:00 - 24:00, August 1(GMT+8)), Guardian Lords will not be able to Gift Flower in Welkin Stage, but you can still claim Favorability Reward if you have not claimed them, and you can still redeem rewards in Mirage Chamber.
2. After the event ends, unused Empyreal Peonies will be kept so that you can use them when the event opens next time.
In the Welkin Gala event, Guardian Lords can check all 4 parts of the event: Activity Quest, Welkin Stage, Trick of Flowers, and Mirage Chamber.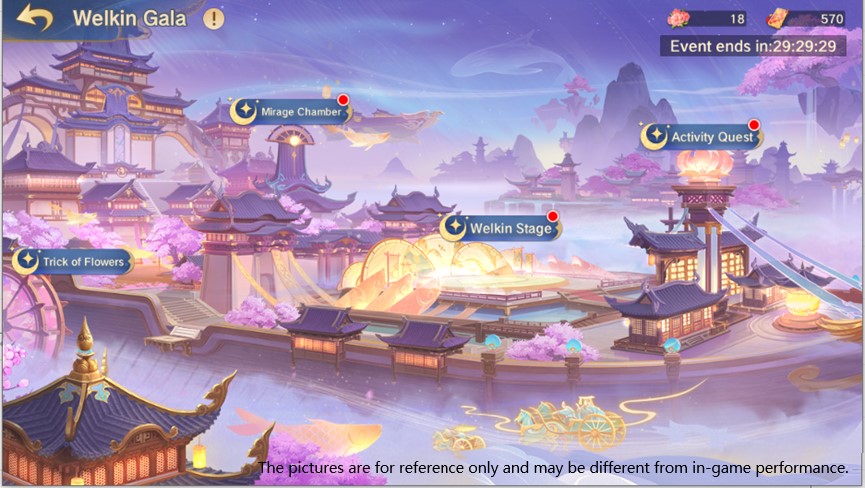 Activity Quest: Dance in the moonlight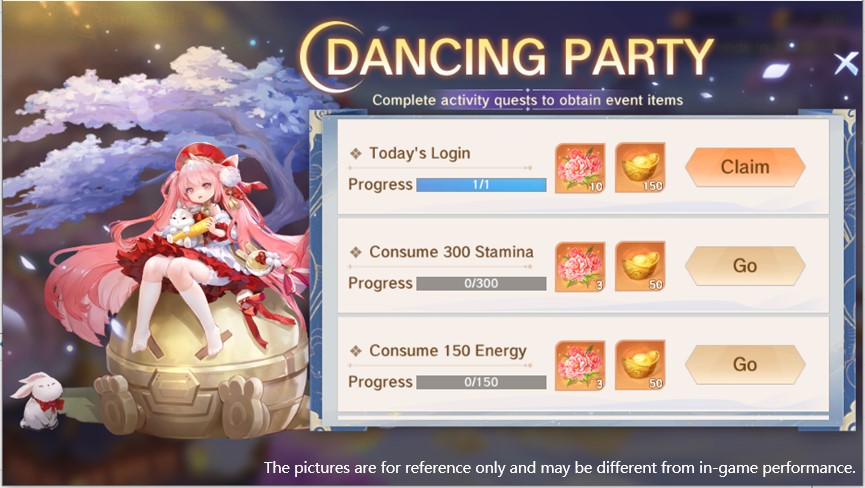 During the event, Guardian Lords can claim Empyreal Peony and Ingots by completing Activity Quests.
Empyreal Peony is the event token that can be used in Welkin Stage.
Welkin Stage: Gift flowers to Goddess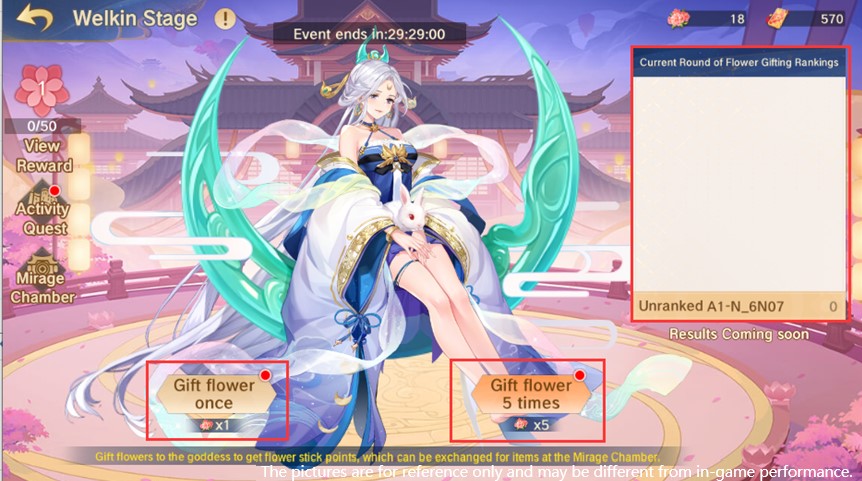 1. During the event, Guardian Lords can gift Empyreal Peony to Lady Chang'e.
During 0:00-2:00(GMT+8)and 6:00-24:00(GMT+8)every day, there will be a Gift Flower event every hour. Gift Empyreal Peony to Lady Chang'e and climb on the rankings. The top 100 Guardian Lords who gift more Flowers will be recorded on the rankings. Based on your position on the rankings every round, rewards will be sent to your mailbox.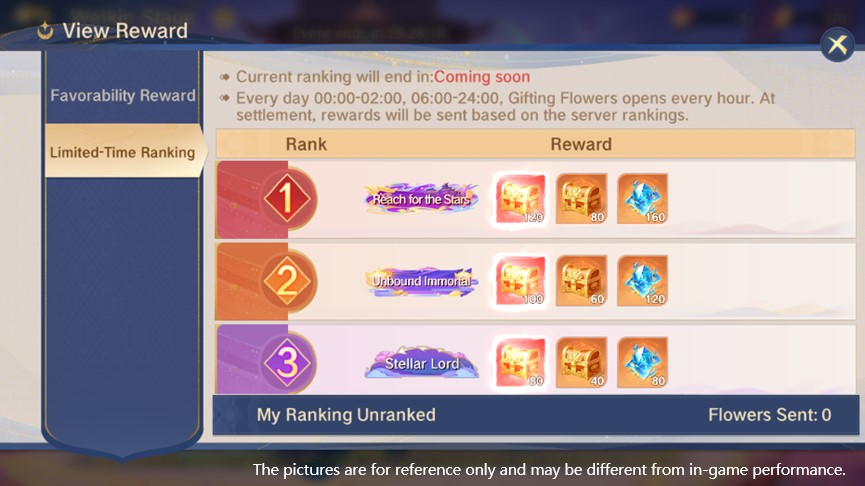 2. Favorability Level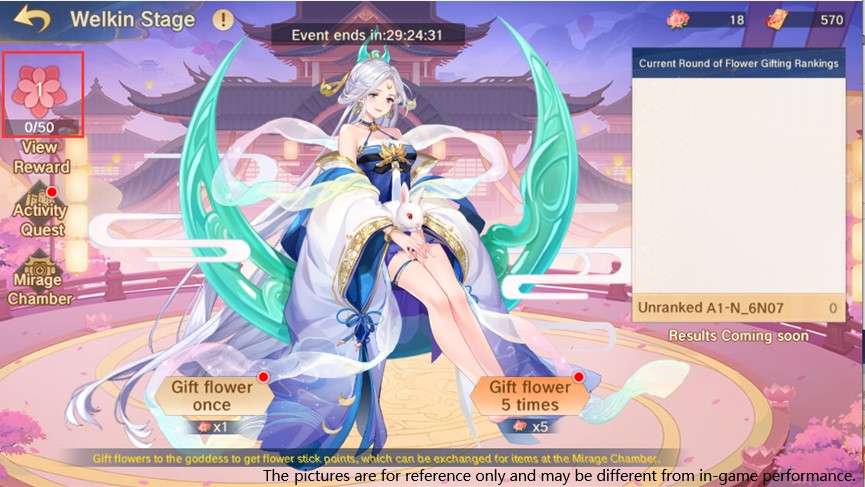 Gift Flower once to win 1 point of Favorability. Winning enough Favorability will increase Goddess's Favorability Level. Every level upgraded will grant you rewards and the highest level is 11.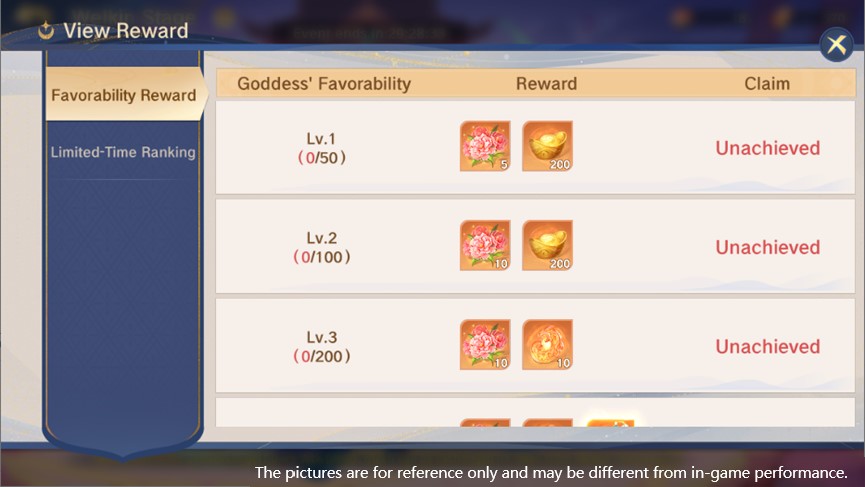 3. Flower Stick Points
Every time Guardian Lords Gift Flowers, you can win a random number of Flower Stick Points, which can be used to redeem various rewards in Mirage Chamber.
Mirage Chamber: Win items
Guardian Lords may purchase Flower Packs on the Pack page in Mirage Chamber to get more Empyreal Peonies.
And you can also use Flower Stick Points to redeem various items on the Point page.
Trick of Flowers: Protect your flowers!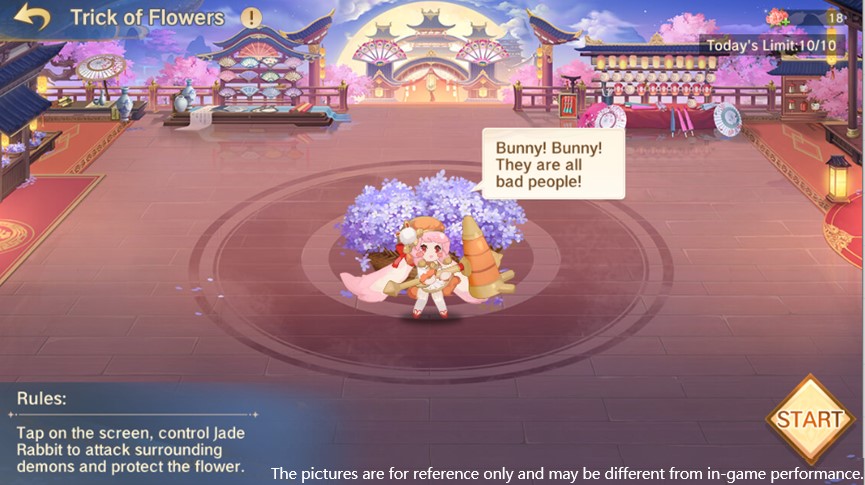 After Trick of Flowers begins, there will be imps coming to steal your flowers. Control Jade Rabbit to fend off the imps and protect your flowers!
Trick of Flowers lasts 60 seconds each time. Make sure you have some flowers left before the countdown ends. Every imp killed provides some energy and after you fully charge the energy bar, you can activate the skill to eliminate all the imps on the screen.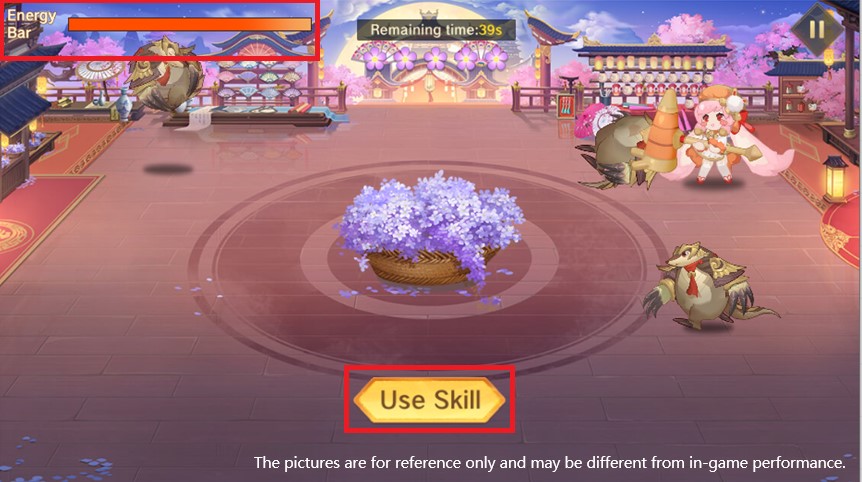 The more flowers left, the better the rewards. You can play the game multiple times, but you can get 10 Empyreal Peonies at most.