Requirement: Server open time ≥ 4 days. By the series number of servers, 32 servers will be added to one group. The event will be a contest between Sects.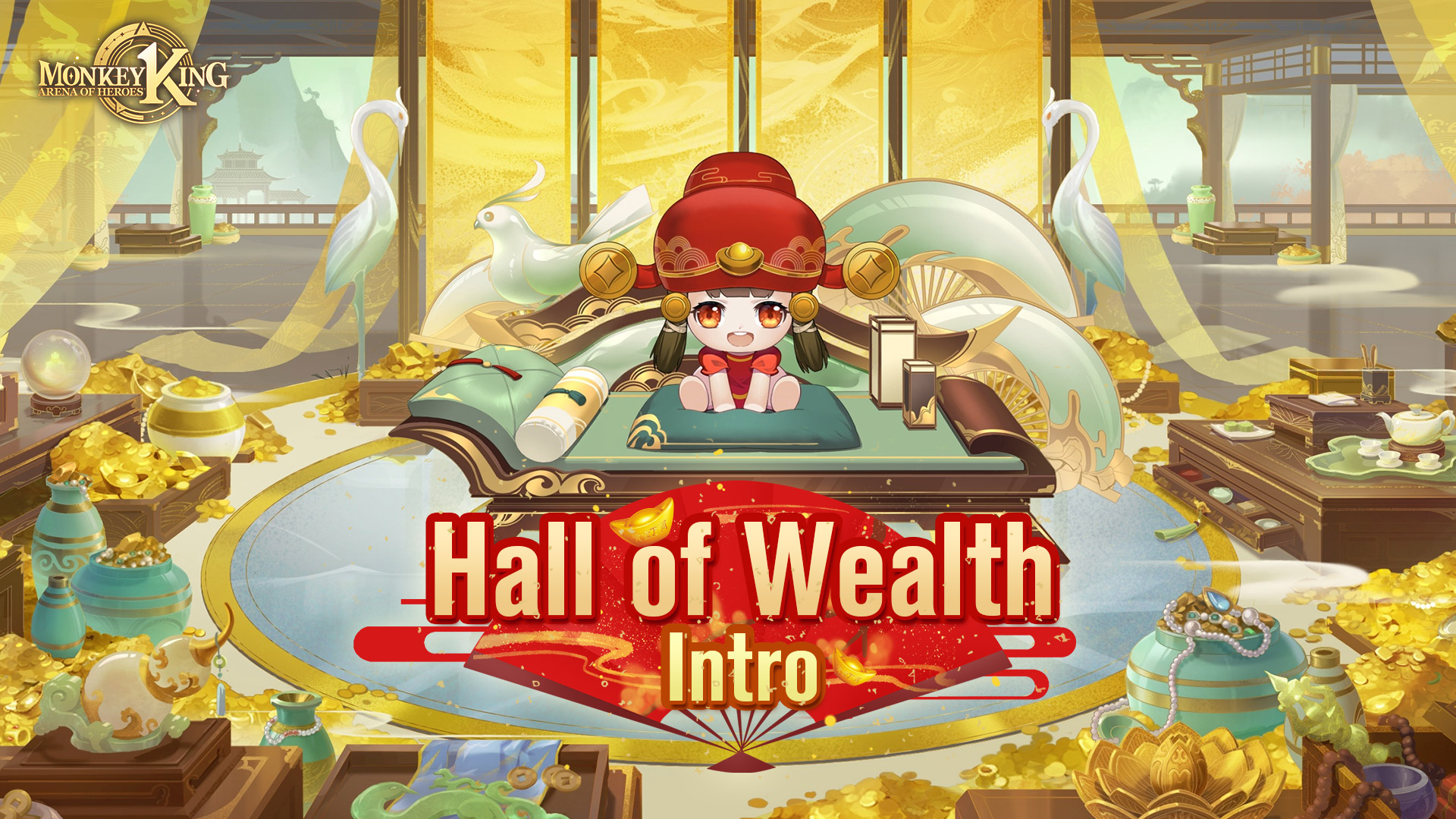 Event time:
Server event time: 0:00 - 22:00 2/9/2022 (GMT+8)
Cross-server event time: 0:00 3/9/2022 (GMT+8) - 22:00 4/9/2022 (GMT+8)
Settlement time: 22:00 4/9/2022 (GMT+8) - 24:00 5/9/2022 (GMT+8)
Daily Login Gift
Child of Wealth has arrived at Fangcun Mountain. Guardian Lords, donate toys he likes, improve his level, and win his blessings for your Sect!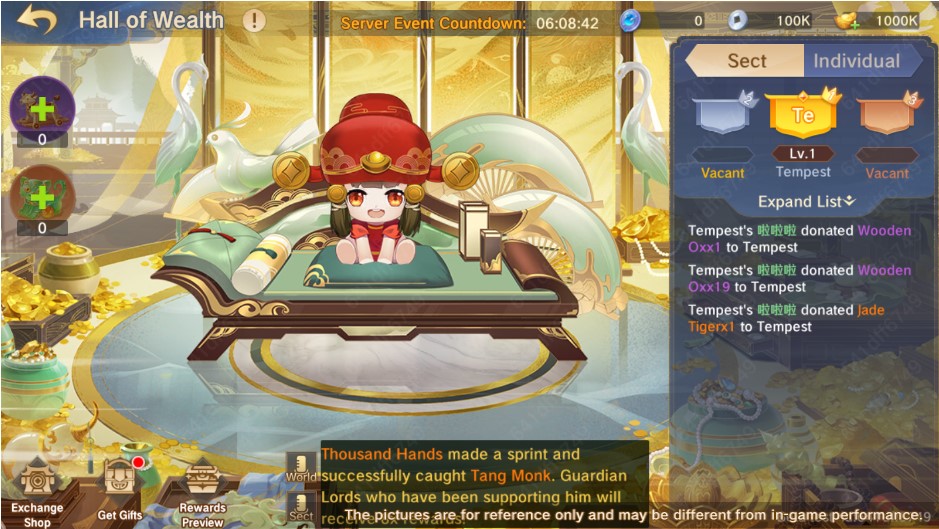 During the event, Guardian Lords can log in to win 1 Jade Tiger and 20 Wooden Ox for free every day.
Donate offerings to get rewards
When the Hall of Wealth event opens, Guardian Lords can register for the event. Every Sect allows 50 registrations. Once registered, you cannot cancel it. If you change Sect after the registration, your donations will still count toward the original Sect.
Guardian Lords who are not in a Sect will not be able to join the event.
Guardian Lords can donate Jade Tigers and Wooden Ox to Child of Wealth of your Sect, adding EXP to Child of Wealth and winning individual Merits. The higher the level of Child of Wealth, the better the rewards.
The Top 3 Sects in Child of Wealth will represent the server to join the Cross-server Child of Wealth. And the level Child of Wealth will be inherited to the cross-server event.
During the cross-server event, you can donate to other Sects to win Individual Merits but it will not add EXP to the Sect's Child of Wealth.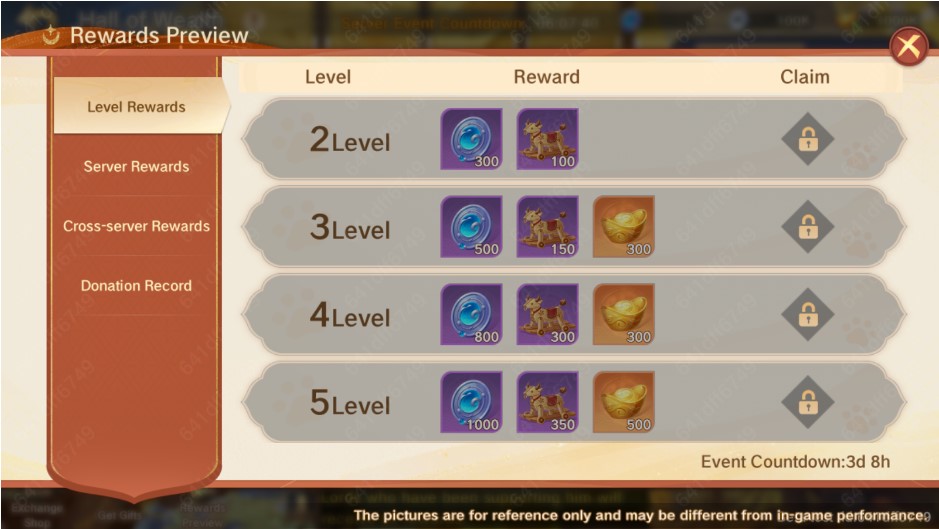 Wooden Ox
Obtained from completing Event Quests.
Jade Tiger
Purchased with Jadestones. And you can claim 1 free Jade Tiger every day!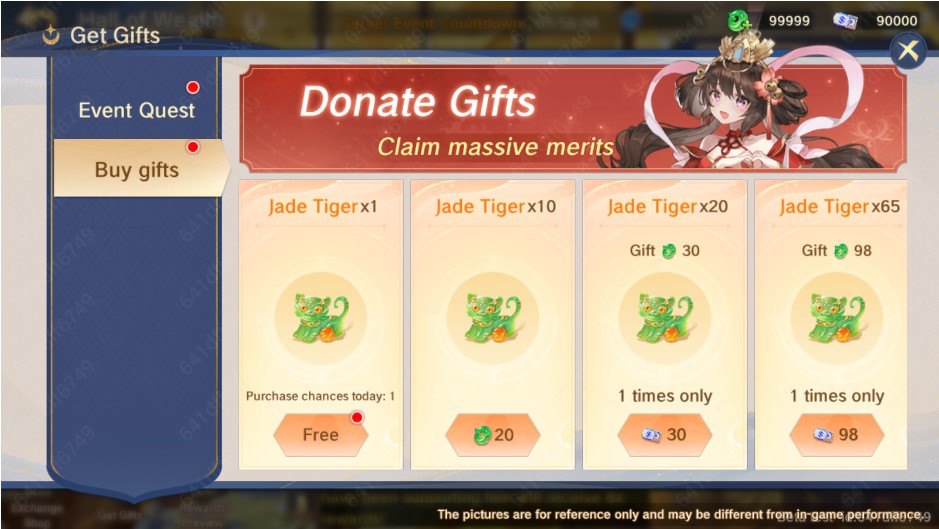 Based on the positions on the rankings and cross-server rankings. During the event, apart from abundant ranking rewards, Guardian Lords in top Sects can also claim exclusive titles!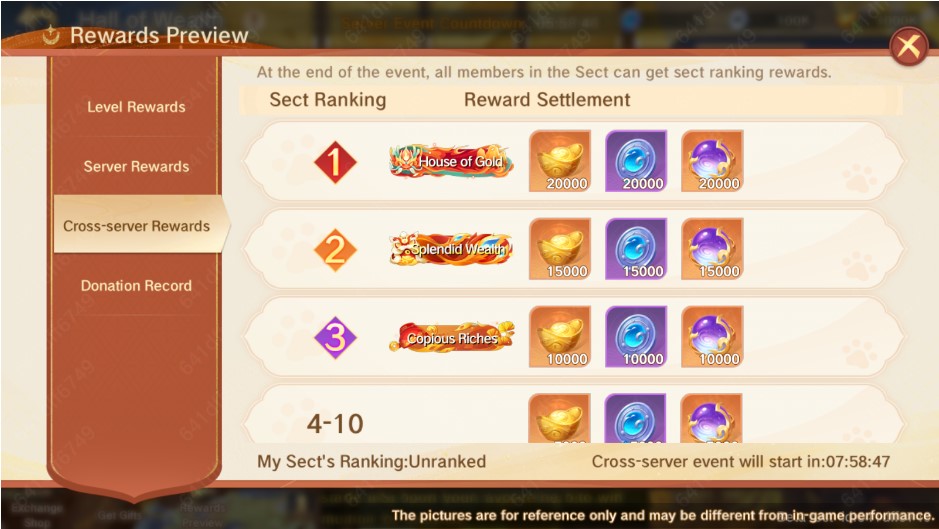 Notice
1. 1 Jade Tiger grants 10 Merits. 1 Wooden Ox grants 3 Merits.
2. There is an upper limit to the donation of Wooden Ox for a Sect. Once the upper limit is reached, donations will not add EXP to Child of Wealth, but can still earn you Merits. There is no limit to the donation of Jade Tigers.
3. Unused Merits, Jade Tigers, and Wooden Ox will be kept so that you can use them when the event opens next time.
Merit Shop full of benefits
When Guardian Lords collect enough Merits, you can go to Merit Shop to redeem rewards you like. Choice Pet Chest, Eight Mythical Heroes (Pick any), Mythical Fortunes (Pick any), and more! Be sure to play actively and get the rewards!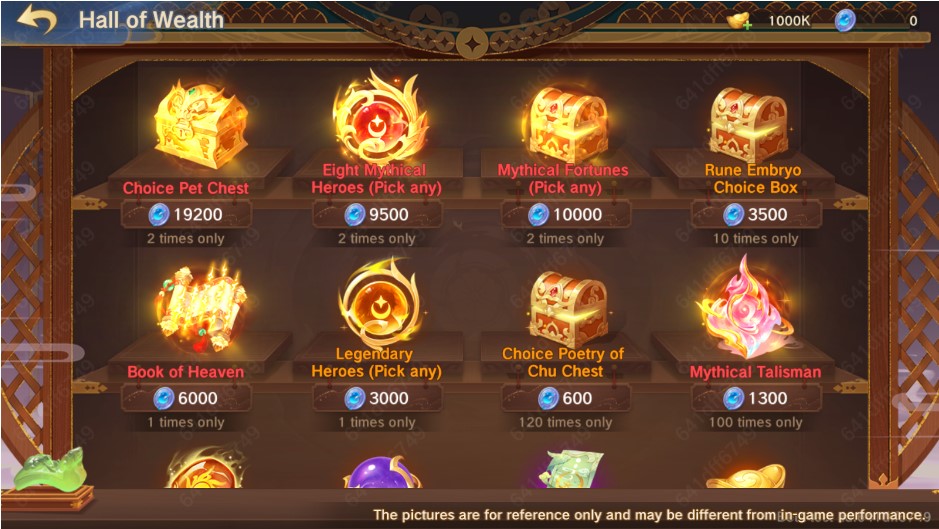 That's all for the event intro! Don't miss the great chance to win the precious items!