Time: 0:00, October 28 - 24:00, October 30
Requirements: 1) Server open time: longer than 4 days. 2) Guardian Lords Level: no lower than Lv.30. Server event.
Event Rules:
1. Guardian Lords can obtain [Sky Lantern] by adventure stages (including ordinary instance, deliverance instance), pavilion hunt, event missions, and festive shops.
2. The [Sky Lantern] will be directly put into the inventory. You can get rewards after using the [Sky Lantern].
Use [Sky Lantern] to get random rewards, including Eight Mythical Heroes Choice Box, Ancient Equipment, Legendary Fortune, Awakening Item and other rare rewards.
Event Instructions:
[Daily Benefits]
During the event,you can obtain [Sky Lantern] and ingots by participating in the event missions.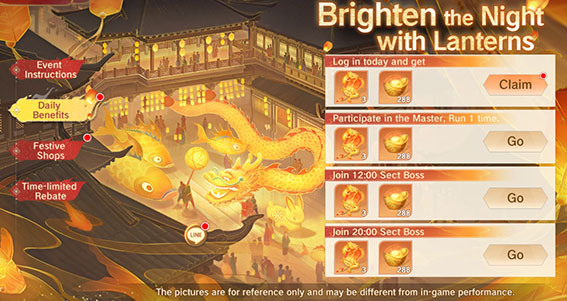 [Festive Shops]
The festive shops will open, you can purchase items in it.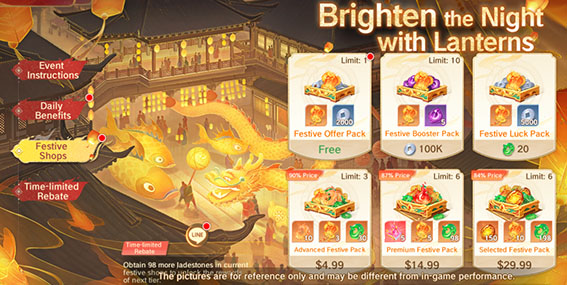 [Time-limited Rebate]
The event has addition benefits! You can get rebate after purchasing over a certain amount in the [Festive Shops] (excluding purchasing Festive Offer Pack and Festive Booster Pack).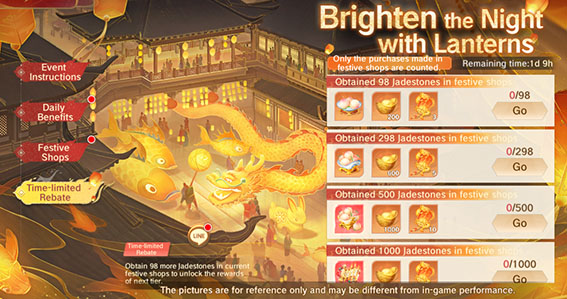 Tips:
After the event ends, unused [Sky Lantern] will be kept.